Best Places For Trekking In Vietnam |Trekking Destination In Vietnam The country offers excellent trekking with remarkable sceneries. And, you may get an unforgettable trip with the images of soaring limestone mountains, tiers of rice fields and plunging highland valleys, etc. Read on this quick guide about tips and best places for trekking in Vietnam in Vietnam!
Essential Tips on Trekking in Vietnam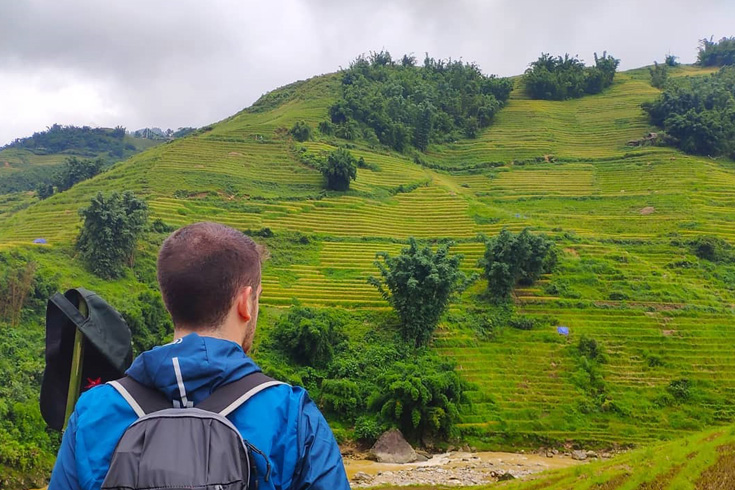 Take the following tips into consideration so that you can have the best experience when it comes to trekking in Vietnam.
1. Before Going on Treks
Think about how long you will travel, what kind of place you want to see (ethnic villages, mountains or national parks, etc.), the period you are in Vietnam (it's better to stay here in the dry season – the best time for trekking in Vietnam)
Be well prepared and ready for physical and mental challenges
Check out the weather forecast. It is not recommended to hike on rainy days when the roads are too slippery.
Ask the local people for more instructions or consider hiring a local tour guide with you.
2. What to Take on Treks
Enough food and water and a first-aid kit
Hiking boots with high quality
Raincoat or waterproof jackets and pants in case it rains
Flashlight or headlamp
GPS navigation devices and a map.
For long hikes, bring your tent and warm sleeping bag
Sunscreen and mosquito repellent
17 Best Places for Trekking in Vietnam
1. Sapa (Lao Cai)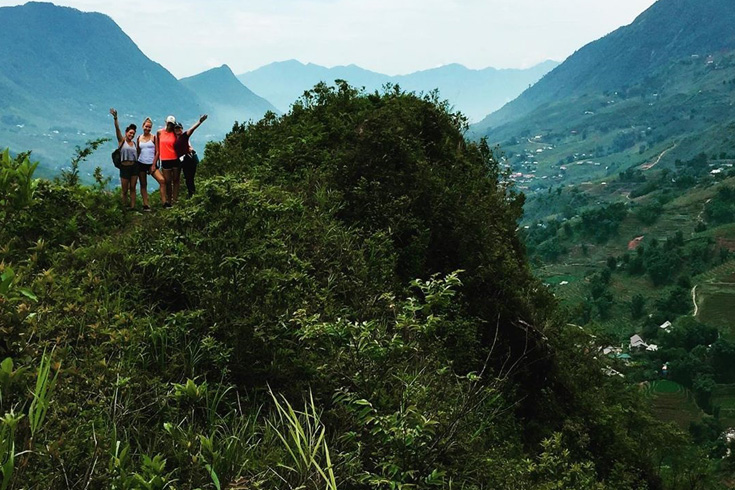 Level of trek: Moderate - Easy
Highlights: Located quite far from Hanoi and right next to the neighboring country, China, Sapa is famous for its spectacular mountains, jade-hued rice paddies, and unique culture as a home of some of the Vietnamese ethnic minorities. It offers diverse and beautiful hiking trails such as Cat Cat village, Y Linh Ho village, Ta Phin village, Muong Hoa Valley, Ham Rong mountain, Sky Gate, etc. Especially, Sapa is the home of the highest peak in Vietnam: Fansipan mount (3143 m).
Best time to trek: from March to May when it is dry and clean; and from September to November if you want to enjoy the terraces
How to get there:
It is 320 km to the northeast of Hanoi. There are several ways to get there: by bus, by train, or by motorbike (drive on your own). Note that Sapa is a mountainous area, and very far, so it's only for hardcore riders.
Popular treks in Sapa:
There is no specific map if you choose to trek by yourself in Sapa. Most people get lost in the beauty of the land and cannot find a way out. So, there are some recommended trek routes for you if you want to experience quite an easy trekking tour level:
Lao Chai Village (5 km from the town of Sapa)
Sin Chai Village (5 km from the town of Sapa)
Ta Van Village (10 km from the town of Sapa)
Hau Thao Village (11 km from the town of Sapa)
Ta Phin Village (12 km from the town of Sapa)
Ban Ho Village (21 km from the town of Sapa)
Things to keep in mind:
Before taking photos of local people, ask them. In some cases, you must pay money for them.
Make copies of all your documents in case you lost the original ones.
Bargain half prices for anything.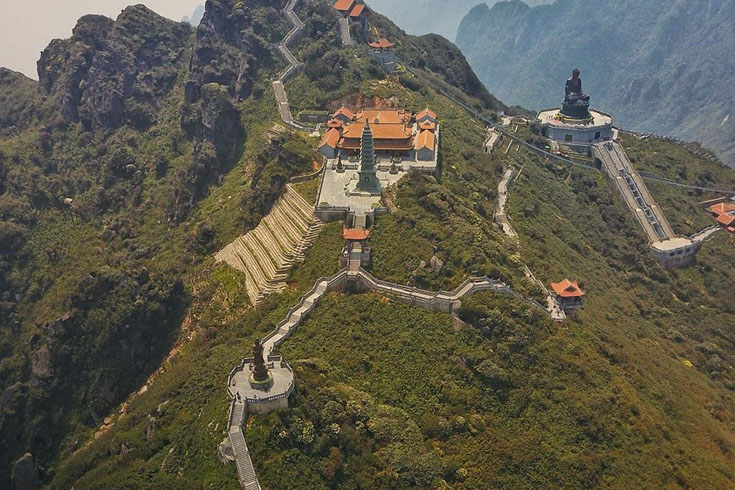 Level of trek: Moderate
Highlights: Fansipan Mount is the pride of Sapa residents for being the highest peak in Vietnam with a height of 3.143 m. Each day, Fansipan attracts at least 1.000 trekkers because of the magnificent view from the summit and beautiful path climbing up. Trekking in Fansipan Mount, you can expect serene gardens and pagodas, captivating sights from the summit. If you have no experience in trekking, you can consider hiring a porter or using cable cars to reach the summit of Fansipan mount.
Best time to trek: from April to May, and from September to November
How to get there:
Catch a shuttle bus which departs from Old Quarter to Sapa town.
Or take a train from Hanoi railway station to Lao Cai and then catch a bus to Sapa town.
Popular treks to Fansipan Mount:
Tram Ton, and return on the same trail
Tram Ton, return over Muong Hoa valley – Cat Cat stream (20km)
Doc Mit (Binh Lu ward) to the top of Fansipan (for professional trekkers only)
Things to keep in mind:
If you want to go for a trek in Fansipan, you need to get permission from the Hoang Lien Son management board. You are expected to pay some fees such as trekking, insurance, forest management, and hygiene fees. The total cost is around VND 200.000.
3. Trekking in Ha Giang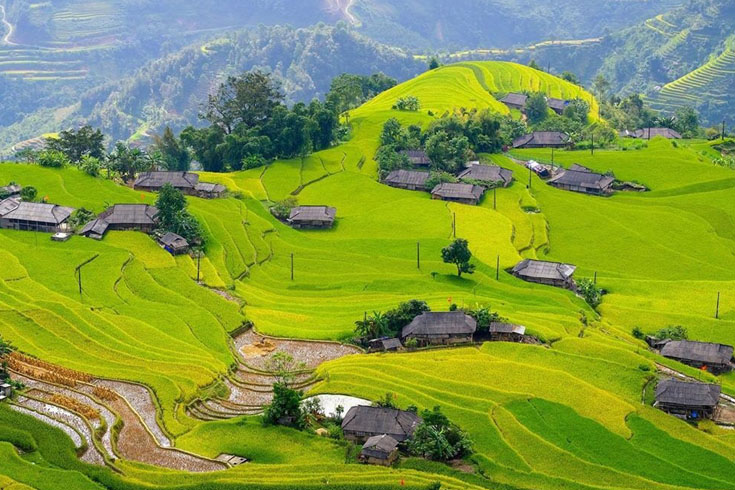 Level of trek: easy
Highlights: Ha Giang is also known as the "Final Frontier of Vietnam" for its sweeping views of carpets of flowers, karst mountains, and colorful markets of ethnic minority communities. Their highlights include Yen Minh, Meo Vac valley, Ma Pi Leng Pass,
Best time to trek: October to December
How to get there: Catch a bus at My Dinh bus station, it takes 6 hours to 8 hours
Popular treks in Ha Giang :
Dong Van valley
Si Phai Mountain Village
Trung Son – Bo Dot – Hop Nhat
Tam Son town (Heaven's gate)
Sky Path: Col de Ma Pi Len
Things to keep in mind: on the map, there is a road between Niem Son and Yen Minh, which is noted as a big road, but it's a mountain track. The best route would be going from Meo Vac through Lung Phin.
4. Trekking in Hoang Su Phi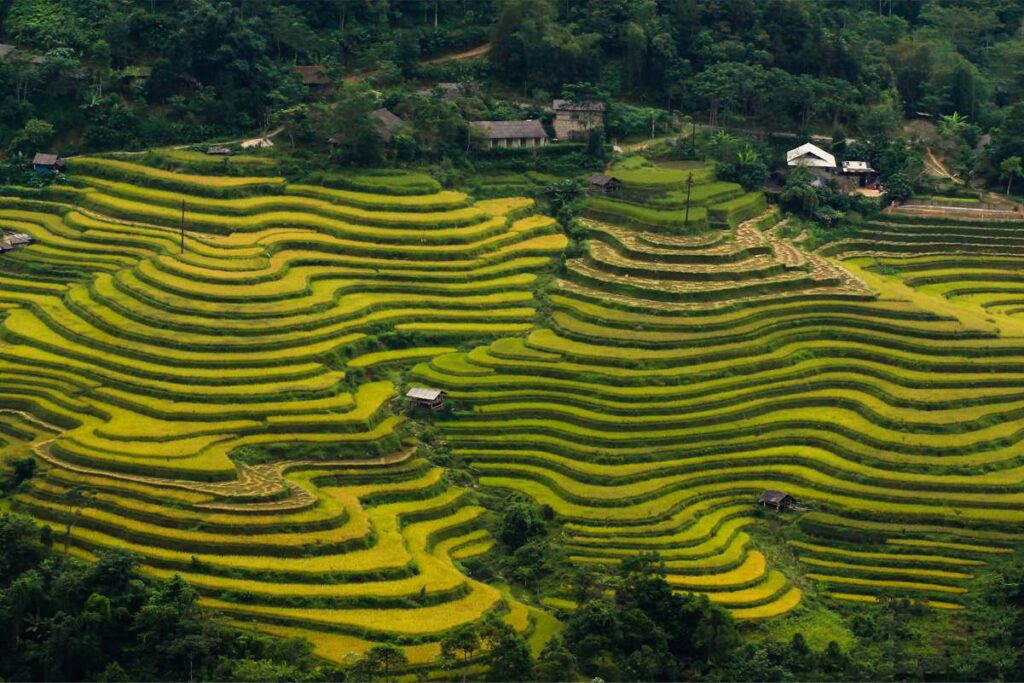 It is true that most of the trekking in Ha Giang is around the impressive karst mountains and lacks the paddy rice fields – the biggest draw for many to do their trekking in Sapa . But many don't know that some of the most impressive rice fields in Vietnam are actually to be found in Ha Giang, namely Hoang Su Phi . It is hardly visited by tourist due to it's off the beaten destination and without any easy transport to the area. Because of this, it always stayed under the radar. This makes visiting Hoang Su Phi unique and authentic. Similar as Sapa, the best way to see it is by making a stunning trekking from village to village while walking on the edge on some of the most superb cultivated areas in the world.
Tip! Want to make a trekking in Hoang Su Phi? Make sure to check out our one of a kind Hoang Su Phi trekking tour or do the combination tour of the Ha Giang loop + Hoang Su Phi.
5. Trekking around Dong Van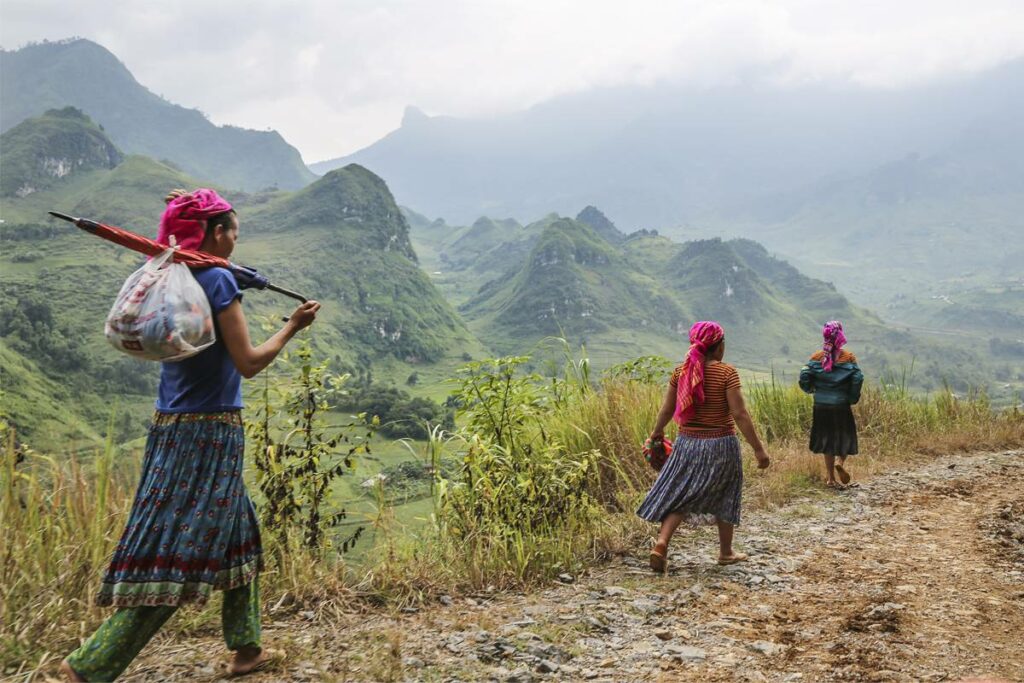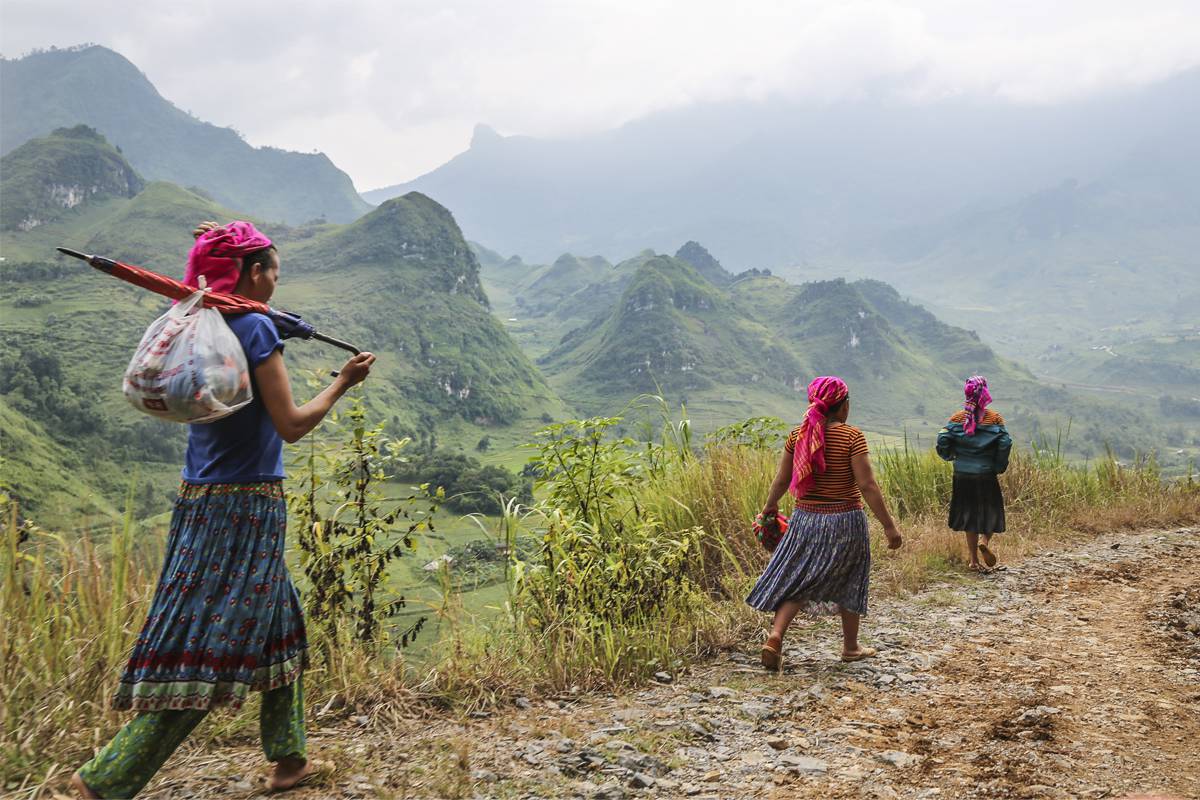 If you want to do a trekking in Ha Giang which is more along the route of the loop, Dong Van is your best option. In and around Dong Van Karst Plateau Geopark you will find the most stunning mountains of the province in combination with lots of villages of ethnic minorities. There is a variety of options available and you can choose from half day, full day or a multiple day trekking with overnight stay in a local homestay.
Especially the area between Dong Van town and Lung Cu is very nice. Also Sung La valley , Sa Phin and Phin Tung are beautiful. In between Dong Van town and Meo Vac, you find the famous Ma Pi Leng Pass which also has an option for trekking.
6. Trekking around Ha Giang City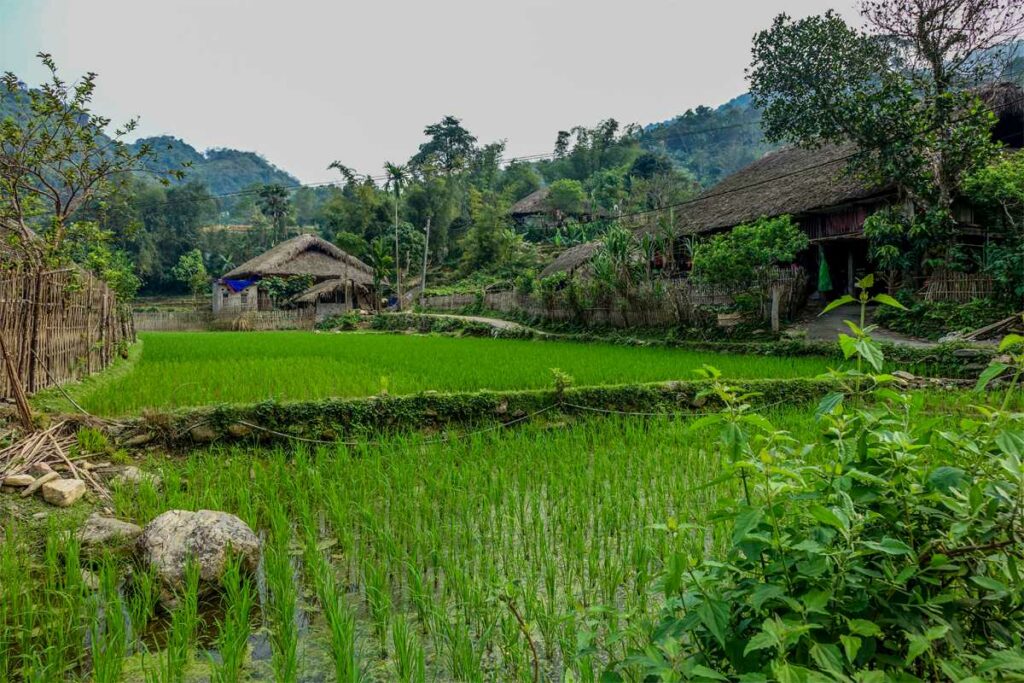 Around Ha Giang City you will find some small minority villages which are a great base to start your trekking tour from. Two of the more known are Thon Tha village just 5 km from the city and Khuoi My villagge. It is surrounded by hills and vast rice fields. The mountains are less high than the area around Dong Van, but instead of that you get a lot more rice fields in return and it is not so exhausting due to the more flat landscape. It is very peaceful to walk through these villages of minority. Most houses are from the Tay people who live in traditional stilt houses made out of wood and bamboo. Below the house often live farm animals such as buffaloes or pigs. Plan your trekking along a stream or to a waterfall to cool down.
7. Trekking around Quan Ba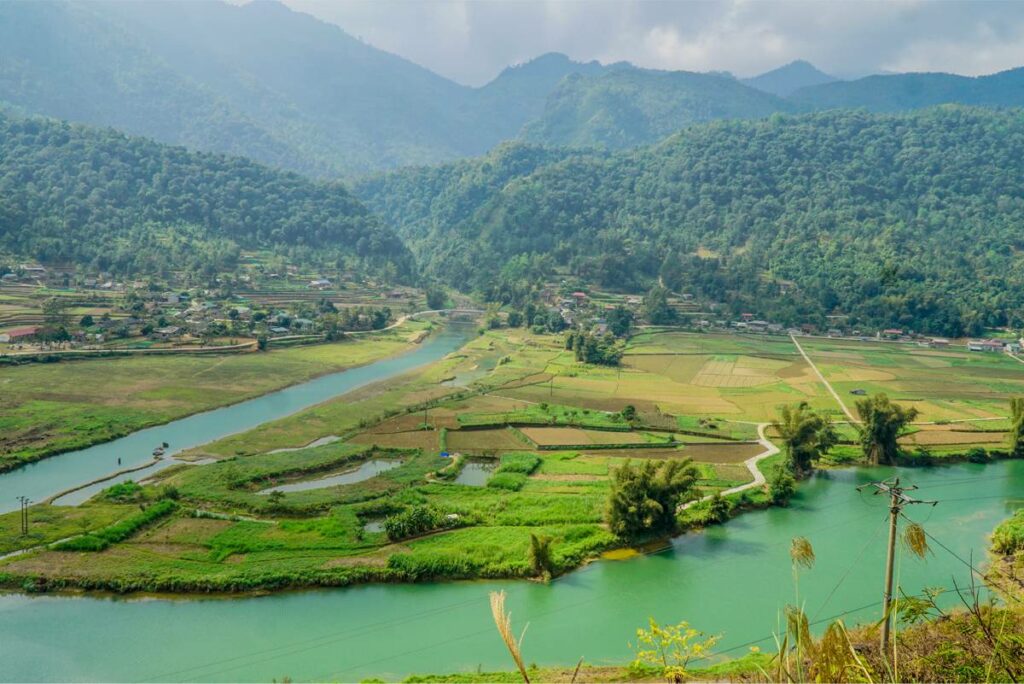 Quan Ba is mainly known as a quick stop at the scenic Heaven Gate and the views on the Twin Mountains. But a bit father from the main road you can find many small villages of ethnic minorities along the river. It is very peaceful to make a trekking around here. There are trails that go farther up the mountains where you have great views over the villages, river and valley below.
8. Trekking in and around Du Gia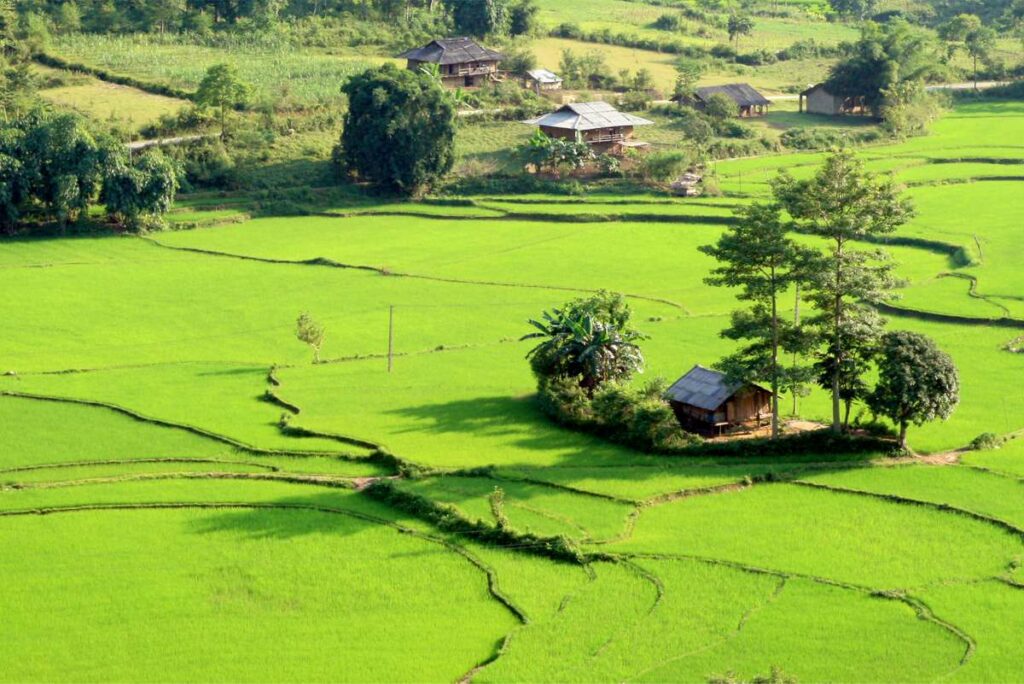 If you are doing the loop in 3 days (or even less), you would most likely skip the area around Du Gia or just drive through it. Only the travelers that do the loop in at least 4 or 5 days will stay overnight here, and experience what a peaceful place this is. Compared to the rest of the destinations you visit during the loop, you will find a lot more rice fields here. Other ethnic minorities also live here, often in stilt houses, where other minorities along the loop are often living in houses made of stone, wood or mud. The lifestyle in combination with rice fields are more similar to those in Thon Tha village near Ha Giang city, the big advantage of Du Gia however, is that there are many high mountains here that surround the villages. During a Ha Giang trekking in this area you can also visit waterfalls and cool off in the small streams that flow through this area.
9. Mai Chau (Hoa Binh)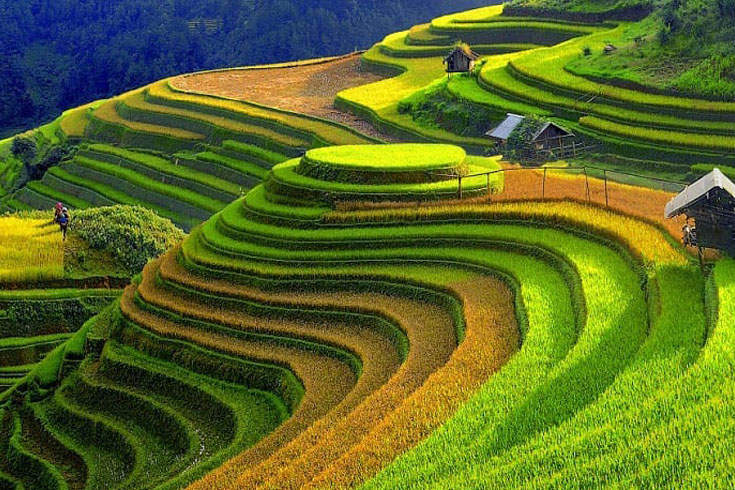 Level of trek: Easy
Mai Chau is well known for easy trekking. If you are a beginner, this is a place to go.
Highlights: Only 150 km far away from Hanoi, Mai Chau seems like a different world with the idyllic, rural valleys, peaceful atmosphere, and laid-back ambiance. There are some places to visit: Thac Bo Temple, Thung Khe pass, Mo Luong lake, White Rock pass, Chieu Cave, Go Lao waterfall, Hoa Binh lake, etc.
Best time to trek: from late September to early May
How to get there: catch a bus in My Dinh bus station in Hanoi to Mai Chau, or enjoy driving a motorbike on your own.
Popular treks in Mai Chau:
To experience the slow life of the Thai and Hmong people: Ban Buoc, Cun Pheo, Hang Kia,…
For more challenging treks: Mai Chau valley, Pu Luong Nature Reserve, Cuc Phuong National Park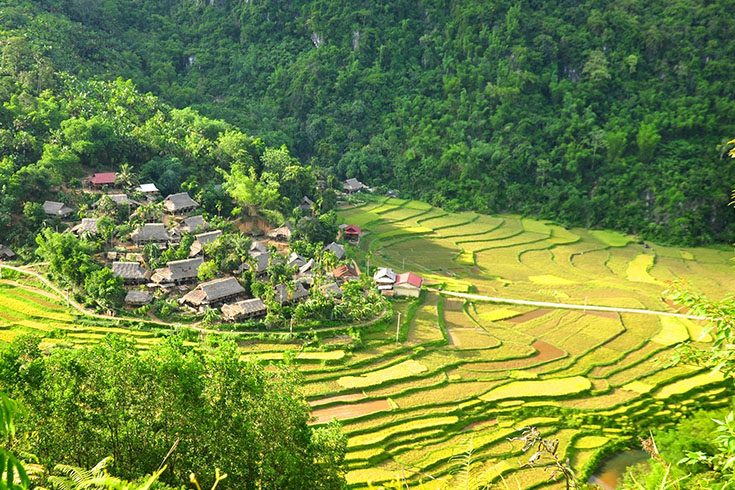 Level of trek: moderate to challenging
Highlights: If you are heading back to Hanoi from the middle of Vietnam, you must add Pu Luong nature reserve to your list. It is the combination of Northern Vietnam's beauty with beautiful terrace rice fields as Sapa, the magnificent passes as Ha Giang, and large fields as Mai Chau. By visiting Pu Luong reserve, you also have the chance to experience the daily life and culture of the Thai and Muong people.
Best time to trek: during rice harvest season, from September to October and from February to May.
How to get there: catch the shuttle bus that takes you directly to Pu Luong from Hanoi Old Quarter.
Popular treks in Pu Luong: A popular trekking adventure will take you to the Pu Luong jungle and beautiful small villages like Hang, Kho Muong, and Kia villages. Some popular trekking routes: Hieu village – Nua village, Nua village – Son village.
Things to keep in mind:
Although Pu Luong is a huge national forest, there are still restaurants and accommodation service areas. Therefore, you don't need to worry about staying overnight there.
11. Cat Ba National Park (Cat Ba Island)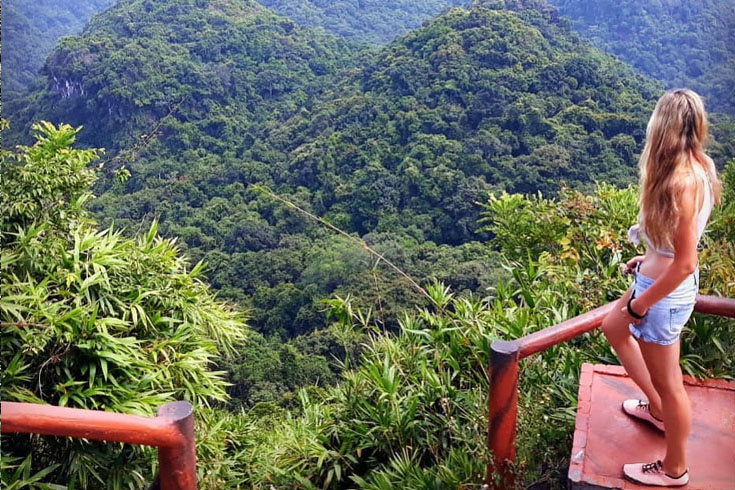 Level of trek: easy
Highlights: Located on Cat Ba island, Cat Ba National Park attracts tourists not only thanks to the beautiful sea but also several attractions, which make your trip promisingly enjoyable. Inside the national park, there is also a museum, a rehab center, a small zoo, etc. And, some viewpoints that you can find while hiking would be worth your going.
Best time to trek: from September to October
How to get there: The best way is to catch a shuttle bus in Nguyen Huu Huan street, Hanoi.
Popular treks in Cat Ba National Park:
Kim Giao Forest – Ngu Lam Peak (1.5 km)
Trung Trang & Uy Ban Grottoes (1.2 km)
National Park HQ – Ao Ech – Viet Hai (14km trekking and walking)
Things to keep in mind:
Fires, tree felling, branch cutting, and hunting are not allowed in the forest
Watch the time out because the national park closes at 5 pm.
12. Cao Bang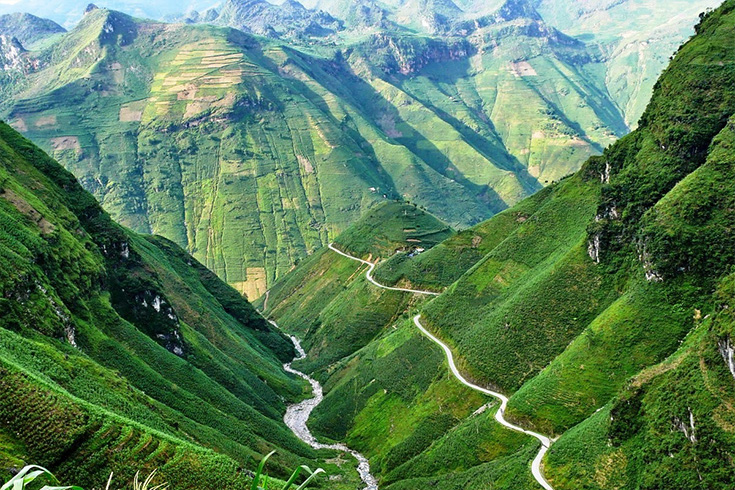 Level of trek: moderate
Highlights: Cao Bang is a frontier region of North Vietnam with immense beauty. The landscape here is famous for jagged mountains, thin winding roads, and sporadic rice paddies. Choosing Cao Bang as a trekking trail, you should not miss these places: Ban Gioc Waterfalls, Nguom Ngao cave, Thang Hen Lake, Pac Bo cave, and Ky Sam Temple.
Best time to trek: from October to April
How to get there: You can take a bus to My Dinh or Gia Lam bus station in the morning or evening.
Popular treks in Cao Bang
Ba Be National Park
Pac Po cave – Trek Nam Nhung
Tong Cot Village
Ta Lung border town
13. Cuc Phuong National Park (Ninh Binh)
Level of trek: easy
Highlights: 120 km from Hanoi, Cuc Phuong National Park is a popular destination for numerous tourists. Visiting this place, you have an opportunity to witness its diverse ecosystems of flora and fauna. The highlights include: visiting Endangered Primate Rescue Center, bird watching, wildlife Night-spotting, and seeing the 1000-year-old tree. And, of course, trekking here is also an exciting thing to do.
Best time to trek: the dry season from December to April
How to get there: The distance is not too far and you have several ways to get to Cuc Phuong: going by train from Hanoi train station, catching a bus in My Dinh or Giap Bat bus station, or hiring a private car.
Popular treks in Cuc Phuong National Park:
Cuc Phuong primary jungle – Muong Hoa village
May Bac peak (700m above seawater)
14. Ba Be National Park (Bac Kan)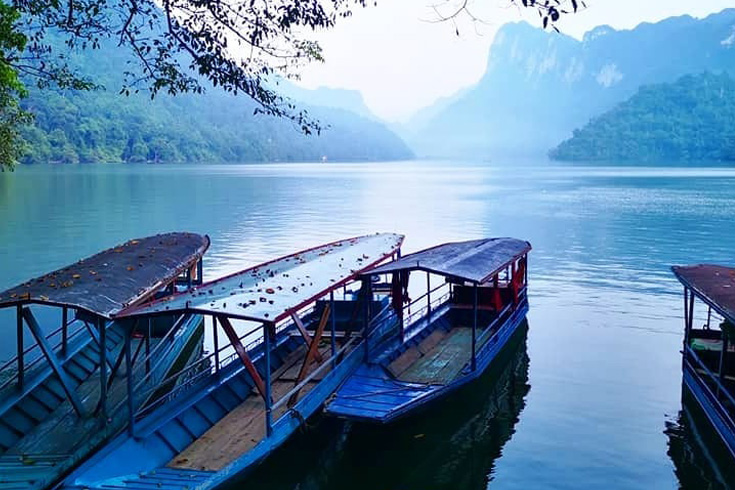 Level of trek: easy
Highlights: Also known as Ba Be Lake, the National Park is centered on Vietnam's largest natural lake. It features gorgeous scenery with dense rainforests, waterfalls, deep valleys, and soaring limestone mountains. There are many hiking trails that you should try. The best way to explore the region is a multi-day trek passing karst outcrops, waterfalls, caves, and rice fields.
Best time to trek: from April to October
How to get there: book an online ticket for a bus. (price: USD 18~10)
Popular treks in Ba Be National Park:
Po Lu village
An Ma Island
Puong Cave
Dau Dang Waterfall
15. Cat Tien National Park (Dong Nai)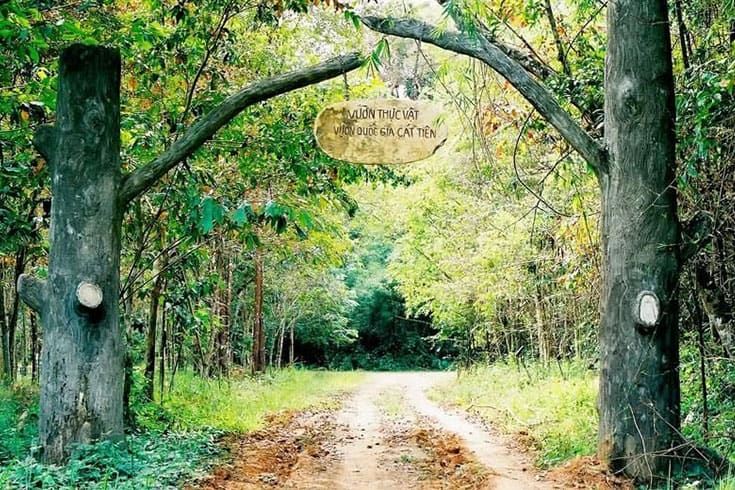 Level of trek: easy
Highlights: Located between Ho Chi Minh and Dalat, Cat Tien National Park is a treasure trove of biodiversity. There is a lot of the world's most endangered species living there. It is the place for getting back to nature, staying in the middle of the forest, and going trekking.
Best time to trek: from December to May when the paths are dry.
How to get there: catch a bus from Ho Chi Minh (VND 80.000) or ride your motorbike.
Popular treks in Cat Tien national park:
30 Botanic Garden Trails
Ban Sau – Crocodile Lake
Ta Lai Ethnic Village
16. Lang Biang Mountain (Da Lat)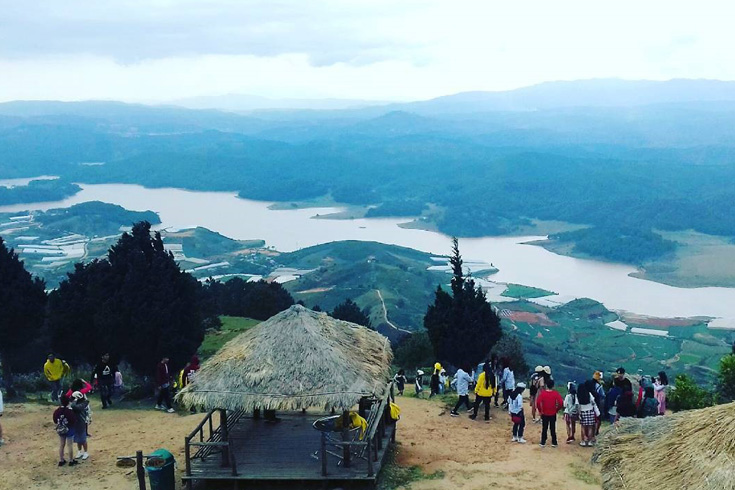 Level of trek: moderate
Highlights: Located about 12 km from Dalat center, Lang Biang mountain is not only an attractive tourist attraction but also a story of passionate love. The mountain is home to some ethnic minorities such as Lach and K'Ho. Therefore, the trip to Lang Biang Mountain is not just about exploring nature; it is also about experiencing a new culture. Although a little bit challenging, hiking to the top of Lang Biang is worth a trek.
Best time to trek: from September to November
How to get there: catch a local bus No 5 from Da Lat bus station, or book an online bus ticket if you travel from HCM City.
Popular treks in Lang Biang Mountain:
The most popular trek is conquering the Lang Biang Peak – the symbol of Dalat city.
On the way to the peak, you have the chance to pass a vegetable farm, pine tree, and jungle forest. And then, enjoy the feeling of standing on the top looking over Dalat and surrounding areas from above.
17. Son Doong Cave (Quang Binh)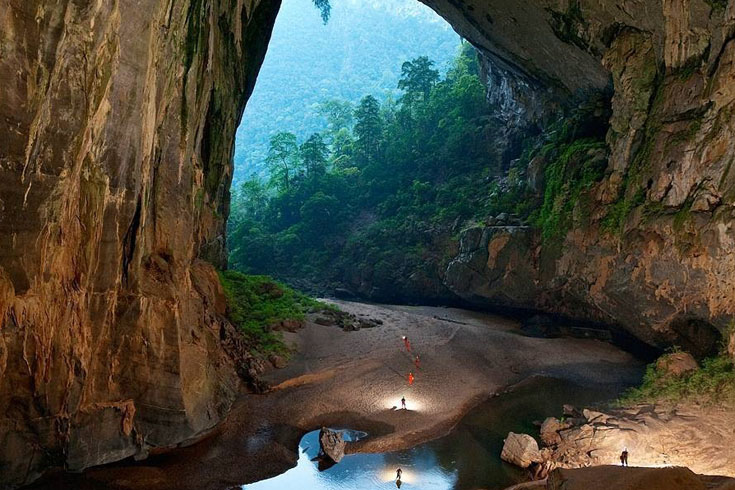 Level of trek: extreme
Highlights: Son Doong Cave is the most special cave in Vietnam. Discovered locally in 1991, the cave remains relatively untouched until now when comparing it with well-developed caves all around the world. It's beyond your average adventure underground. The largest cave in the world, Son Doong, leads you to a nseveralique environment to explore. Each year, the number of permits to explore the cave is limited, to only 200 travelers/year. So you need to prepare carefully and register in advance for your trekking.
Best time to trek: from February to August when the weather is cool
How to get there: Catch a bus to Phong Nha Ke Bang National Park, then pass through the only village there.
Things to keep in mind:
You should call a travel agency to book forking in Son Doong Cave. Normally, you may wait for several months to one year.
Trekking in Vietnam is a must and a favorite thing for any trekker. The above trekking spots will make your trip to Vietnam more meaningful and interesting. Feel free to contact us if you have any questions about trekking in Vietnam.